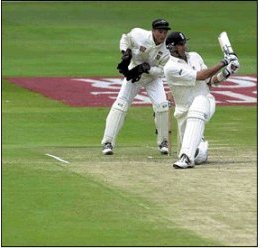 WELCOME

to the Parker Building Supplies East Sussex Cricket League Play Cricket website.
Among the objects of the League are: To promote, encourage and foster the playing of cricket, interest in cricket generally and in particular in the County of East Sussex, and to organise cricket on a competitive basis within the spirit of the game.

We have currently 57 clubs in our membership made up from 116 teams in 11 divisions. If you are considering affiliating your own club to our league please contact the Hon. Secretary. If you want to learn more about the individual clubs and teams in our league you may wish to go to our own website which is to be found at http://www.escl.org.uk/index.htm - This is where you can access important messages, read the minutes, consult the fixtures, check your club's details in the database (which because it is updated every week is always more up-to-date than the printed version), refer to the rules and appendices and much more. Please acquire the habit of visiting www.escl.org.uk regularly and often to ensure that your club has not missed some important announcement. This applies out of season as well as during the summer months.
_____________________________________________________________________
Brightwell cum Sotwell Cricket Club
We are Brightwell cum Sotwell Cricket Club based in South Oxfordshire and play Sunday Friendly Cricket.
We have been touring for the past 8 years in South Devon, West Sussex, Kent and Wiltshire - 2 year in each area. For 2018 it is planned to be on Friday Saturday and Sunday 3/4/5th August 2018 – playing afternoon games on each day. We understand the challenge of Saturday fixtures because of league matches.Are you be able to assist us in East Sussex in initially contacting clubs? Regards, Tony Windsor, Secretary BCS Cricket Club Tel: + 44 7909 848098
Email: tonywindsor2@gmail.com
Web Site: www.pitchero.com/clubs/brightwell-cum-sotwell
FaceBook: https://www.facebook.com/brightwellcumsotwellcricketclub/