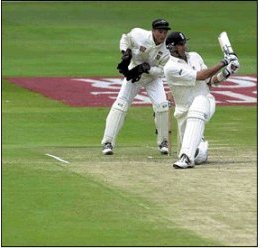 WELCOME

to the Parker Building Supplies East Sussex Cricket League Play Cricket website.
Among the objects of the League are: To promote, encourage and foster the playing of cricket, interest in cricket generally and in particular in the County of East Sussex, and to organise cricket on a competitive basis within the spirit of the game.

We have currently 60 clubs in our membership made up from 111 teams in 12 divisions. If you are considering affiliating your own club to our league please contact the Hon. Secretary. If you want to learn more about the individual clubs and teams in our league you may wish to go to our own website which is to be found at http://www.escl.org.uk/index.htm - This is where you can access important messages, read the minutes, consult the fixtures, check your club's details in the database (which because it is updated every week is always more up-to-date than the printed version), refer to the rules and appendices and much more. Please acquire the habit of visiting www.escl.org.uk regularly and often to ensure that your club has not missed some important announcement. This applies out of season as well as during the summer months.
_____________________________________________________________________
WEATHER AFFECTED MATCHES
Clubs and umpires are reminded that we are now in a limited over situation in respect of points awarded in games. Should a game get curtailed and enough overs are completed to obtain a result the points for the game will be 30 points for the winning side, the losing side will receive only the bonus points earned.
Therefore in a reduced overs game that is completed, the minimum 9pts rule DOES NOT APPLY. If the game is abandoned the usual 9 Points, or Points Earned if greater than 9, will apply.
Any queries on the playing conditions should be addressed to the PCSC Chairman Andy Shanks or the League Chairman Derek Barnard.
ESCL's playing conditions for the second half of the 2017 season
The details of the relevant Playing Conditions for the second half of the season can be found in the current Directory & Handbook 2017 on pages 69-71
_____________________________________________________________________

Completion of Match Scorecards
Clubs are reminded that scorecards must be completed on Play-Cricket.com by no later than 6pm on the Tuesday following each match.
Late completion will result in a 2-point deduction per missing name.
Your club website will alert you to any scorecard containing unsure players on the admin home page, so please check this regularly.
League contacts received a message on Sunday 9th July to this effect.
_____________________________________________________________________
Future of Recreational Cricket
"All clubs are invited to attend one of the following information sessions that are being held over the next few weeks.
The following sessions are scheduled for East Sussex:

(two events have already taken place)
20th July at Hastings
27th July at Eastbourne
All sessions commence at 7.30pm.
You can influence the future of Recreational Cricket by attending one of these sessions which commence each evening at 7.30pm"
_____________________________________________________________________
UMPIRES' MARKS

Number to text: 07487 311 652
_____________________________________________________________________
Annual Dinner 2017

Friday 3rd November
Please note the change of date for the Annual Dinner
at the Cumberland Hotel, 34-36 Grand Parade, Eastbourne BN21 3YT
_____________________________________________________________________