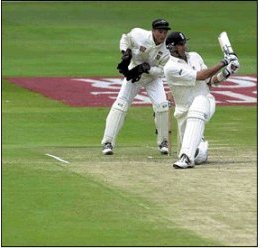 WELCOME
to the Parker Building Supplies East Sussex Cricket League Play Cricket website.
Among the objects of the League are: To promote, encourage and foster the playing of cricket, interest in cricket generally and in particular in the County of East Sussex, and to organise cricket on a competitive basis within the spirit of the game.
We have currently 59 clubs in membership with, at the beginning of the season, some 113 teams in 12 divisions.
If you are considering affiliating your own club to our league please contact the Hon. Secretary.
If you want to learn more about the individual clubs and teams in our league you may wish to go to our own website which is to be found at http://www.escl.org.uk/index.htm - This is where you can access important messages, read the minutes, consult the fixtures, check your club's details in the database (which because it is updated every week is always more up-to-date than the printed version), refer to the rules and appendices and much more. Please acquire the habit of visiting www.escl.org.uk regularly and often to ensure that your club has not missed some important announcement. This applies out of season as well as during the summer months.
__________________________________________


LEAGUE FIXTURES FOR 2016
Your club's League Contact will have received an email stating: "Would you please let your club's Fixture Secretary know that the fixtures for 2016 are now available on each club's Play-Cricket website, as well as the league's own Play-Cricket website?
These fixtures are, in addition, on our own website as from today.
http://www.escl.org.uk/index.htm

Go to the maroon coloured menu to the left of this page. Select "Fixtures" and either leave the dates blank (or complete both of the date entries) and then select the team. Press "Search". 30-12-15
______________________________________________

LEAGUE STRUCTURE FOR 2016
There has been a withdrawal of one team from next year's competition (on 22-11-2015.) Iden CC will now be fielding one side only and because of the loss of some players from their club they will no longer be in Division Two as anticipated, but in Division Five.
As a consequence Fletching (Division 2), Pevensey (Division 3) and Newick (Division 4) will not now be relegated but remain in the divisions shown.
______________________________________________
LEVEL ONE SCORING COURSE
As the Sussex County scorer officer I am planning a level one course on Sunday February 7th in the Pavilion at the County ground, Hove.
A shorter, Introductory course (3-4 hours) for new scorers is also an option in addition to an introductory course on computer scoring (3-4 hours).
My contact details are: npr.smith@virgin.net or 07956 347749
Regards, Nigel Smith
______________________________________________