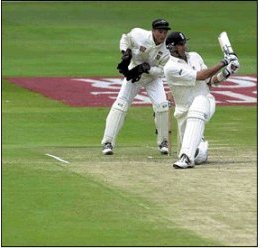 WELCOME
to the Parker Building Supplies East Sussex Cricket League Play Cricket website.
Among the objects of the League are: To promote, encourage and foster the playing of cricket, interest in cricket generally and in particular in the County of East Sussex, and to organise cricket on a competitive basis within the spirit of the game.
We have currently 59 clubs in membership with, at the beginning of the season, some 113 teams in 12 divisions.
If you are considering affiliating your own club to our league please contact the Hon. Secretary.
If you want to learn more about the individual clubs and teams in our league you may wish to go to our own website which is to be found at http://www.escl.org.uk/index.htm - This is where you can access important messages, read the minutes, consult the fixtures, check your club's details in the database (which because it is updated every week is always more up-to-date than the printed version), refer to the rules and appendices and much more. Please acquire the habit of visiting www.escl.org.uk regularly and often to ensure that your club has not missed some important announcement. This applies out of season as well as during the summer months.
_________________________________________

Umpires' Marking
To all teams playing in Division 1 and 2:
The system for marking umpires will be similar to that of the 2015 season. Please Text 07858 209 288 The text needs to be similar to that detailed below.
(club name); (umpires name 1 – mark 1-10); (umpires name 2 – mark 1-10;) The umpires name must be initial and surname.
If you mark below 6 please send an email to esclumpires@gmail.com explaining your mark.
ALL MARKS MUST BE RECEIVED BY 10am on the Sunday following the game. Failure to do this will incur a points penalty. Thanks, Chris Bates
__________________________________________
ECB Guidance Note: Safety measures for helmets within recreational cricket
"Leagues and Clubs in recreational cricket should ensure that their cricketers are made aware of the ECB's recommendation in relation to helmets, including the need to check that any newly purchased helmets meet the latest British Safety Standard. The ECB recommends that Leagues and Clubs bring the link www.ecb.co.uk/helmets to the attention of their cricketers and encourage all cricketers carefully to consider their own health and safety regarding helmet use."
__________________________________________

SCF Affiliated Clubs Membership Cards
Roger Newman has emailed all league contacts and will send out the membership cards by post on Monday 18th April.
If clubs need them for Sunday's match, he will arrange for them to be left on the gate at Hove.